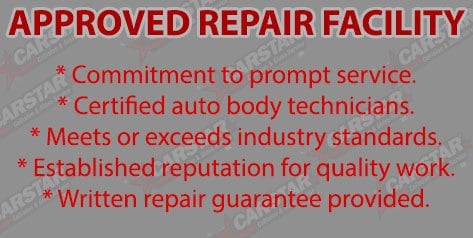 Highly trained technicians using the latest in technological equipment ensure that you will be totally satisfied with the repairs to your vehicle. We can also arrange Car Rental, Towing, etc. for your convenience.
Approved Repair Facility
We will assist you in dealing with insurance companies.
We have a preferred claims status with all insurance companies.
Chief Frame Straightening System.
Chief Genesis Laser Measuring System.
Sophisticated colour matching equipment.
Down draft spray booth.
Paint repairs are guaranteed for life.
Free Estimates.
Preferred insurance company claims guarantee the repair for life.
Body Shop Hours
Monday

Open Online & By Appointment Only

Tuesday

Open Online & By Appointment Only

Wednesday

Open Online & By Appointment Only

Thursday

Open Online & By Appointment Only

Friday

Open Online & By Appointment Only

Saturday

Open Online & By Appointment Only

Sunday

Open Online
See All Department Hours
DEALERSHIP HOURS
Monday

Open Online & By Appointment Only

Tuesday

Open Online & By Appointment Only

Wednesday

Open Online & By Appointment Only

Thursday

Open Online & By Appointment Only

Friday

Open Online & By Appointment Only

Saturday

Open Online & By Appointment Only

Sunday

Open Online
PARTS DEPT HOURS
Monday

7:30 am - 5:00 pm

Tuesday

7:30 am - 5:00 pm

Wednesday

7:30 am - 5:00 pm

Thursday

7:30 am - 5:00 pm

Friday

7:30 am - 5:00 pm

Saturday

Closed

Sunday

Closed
SERVICE DEPT HOURS
Monday

7:30 am - 5:00 pm

Tuesday

7:30 am - 5:00 pm

Wednesday

7:30 am - 5:00 pm

Thursday

7:30 am - 5:00 pm

Friday

7:30 am - 5:00 pm

Saturday

Closed

Sunday

Closed
BODY SHOP DEPT HOURS
Monday

Open Online & By Appointment Only

Tuesday

Open Online & By Appointment Only

Wednesday

Open Online & By Appointment Only

Thursday

Open Online & By Appointment Only

Friday

Open Online & By Appointment Only

Saturday

Open Online & By Appointment Only

Sunday

Open Online